South Park: The Poor Kid
I'm white trash and I'm in trouble!
Michael Scott:
You know I hate even disappointing one person and I really hate disappointing everyone, but I love Burlington Coat Factory.
What the heck ever happened to the phrase "Stranger Danger"?
Puff Daddy's Vote or Die Campaign summarized in 5 pictures.
From MADtv's Monologues Sketch
…and I'm Barbara Bush — no pun intended.
[GIF] 6,000 Chicken Fajitas
[GIF] Family Guy - Wookie Nipple Pinchy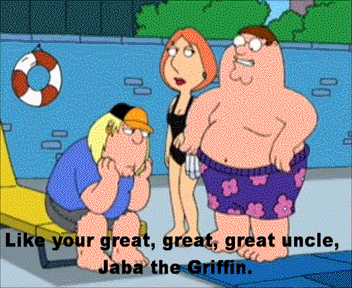 Tracy: "Everyone laugh! Now you sons of b*tches."
Hell's Kitchen

Nightmares

Iron Top Chef

Cafeteria Throwdown

Ultimate Cookoff

Challenge
Honestly, I had to look at the photo many times, switching windows, to write this down.